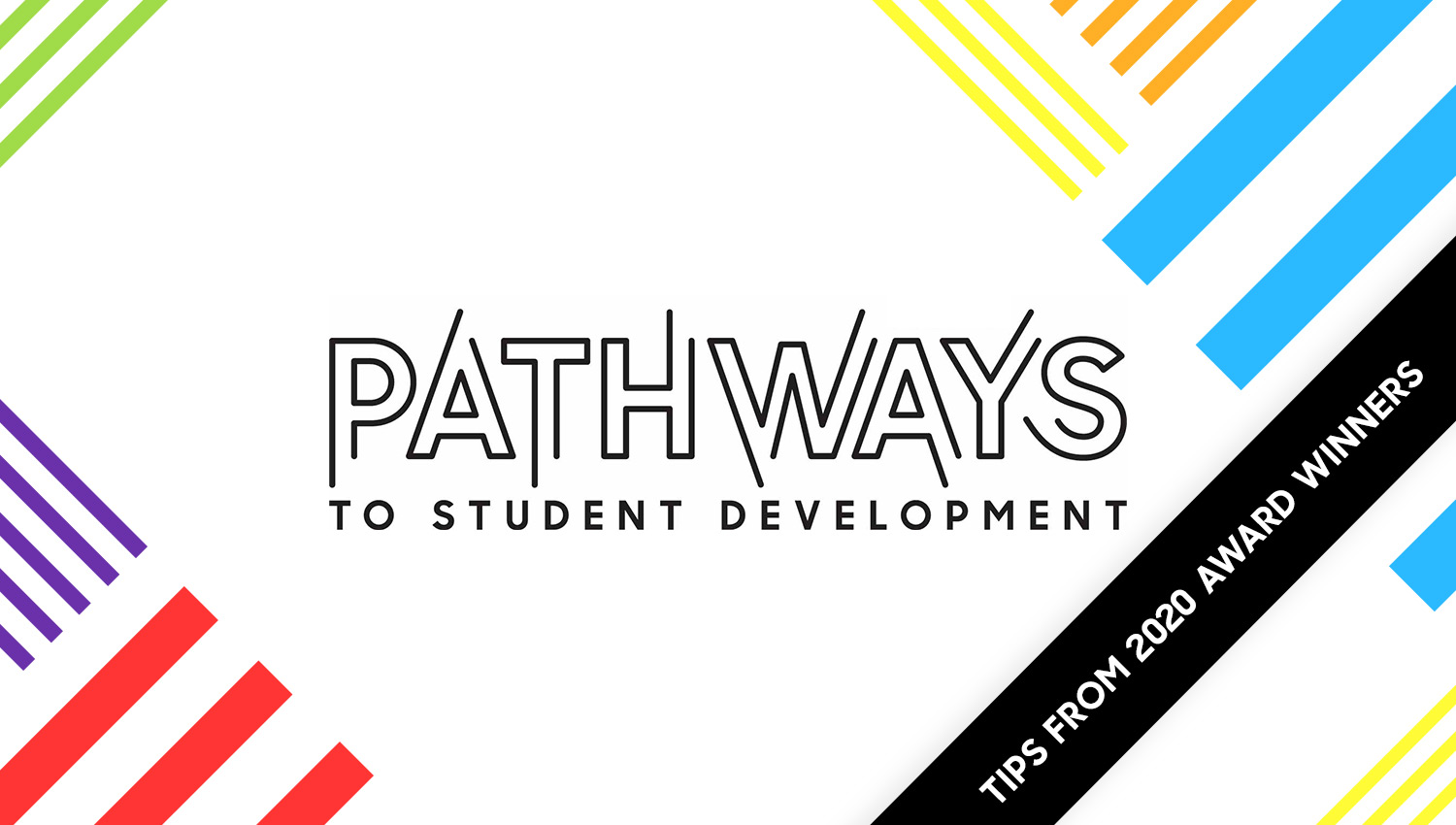 Meeting your school's goals for student engagement and retention, career readiness, first-generation experiences, and other top initiatives is made all the more difficult with at-home constraints. Which is why higher education branding has never been more important. A modern student engagement experience can no longer get away with encouraging student involvement in person; it now needs to extend its arms to reach outside the campus and through the computer screen.
Suitable's 2020 Pathways Student Development Conference brought together a community of student success leaders to talk about these new branding challenges and celebrate the colleges and universities who are doing branding right. We spoke to some of this year's Best Branding Award winners to hear their thoughts on what branding tactics make an effective new student engagement program and digital student experience. They shared their biggest brand tips and proven school branding strategies, as well as valuable takeaways from their time navigating branding and marketing challenges along the way.
College of Charleston: Starting Early & Thinking Independently
The QUEST School of Business at the College of Charleston won a Suitable Best Branding Award for QUEST,the School of Business engagement app powered by Suitable. QUEST encourages students to "Commit to the Journey" and is designed to "promote and track activities and experiences that stimulate a global mindset, inspire creativity and innovation, develop leadership skills and instill ethics and integrity."
Here's what Cory Werkheiser, Assistant Director of Career and Professional Development at the College of Charleston School of Business, shared about the branding best practices that helped them engage with students.
Early Start: Begin your brand planning early and give yourself time to build a cohesive, themed campaign. Branding is so much simpler when you come up with a theme that provides easy marketing ideas moving forward.
Multi-Pronged Promos: Design a multi-pronged promotional approach that includes social media, video, and email, as well as in-person promos to support your program when it's feasible in the future.
Conflict-Conscious: Keep your final branding decisions to a small, close-knit group and be conscious of potential conflicts with your campus's marketing or communications division.
Werkheiser said a big challenge is designing a campaign that gives your team more control over the end result. His team's efforts were performed mainly in-house without MarCom support until launch week, which meant they were given the opportunity to explore their own ideas of what would resonate best with their students.
"We used some aspects of our College's style guide, but mostly created something from scratch with our ideas independent of campus requirements for colors, typeface, logos, etc. I can imagine a situation where MarCom takes issue with something outside their purview. I strongly recommend evaluating campus marketing politics before doing too much work."
Washington State University: Cohesion, Creativity & Stickers
The Carson Career Amplifier Program won the Washington State University Carson College of Business their 2020 Suitable Best Branding Award. The program is structured around several core, research-based career readiness competencies identified by the National Association of Colleges and Employers. It helps students build skills in career management, communication, leadership, and professionalism.
Michelle Chapman, Assistant Director of Student Engagement at the Carson Center for Student Success, had plenty to share about some of the best ways to keep your program's brand looking great over the long term.
Cohesion: Ask yourself what your program represents and how you can make the look of its various elements have something in common. Chapman's team used badges in the Suitable app with the same shape but different colors to correspond to their program's tiers.
Design Ideas: Come to your graphic designers with ideas already on the table. Sharing your rough creative concepts and program goals will give them something to start with, and then you'll have an easier time molding and refining the brand as you go along.
Parameters: Make sure to check in with your university or college's larger branding team. Often there are rules and regulations you may not know about, and if you get too far in the branding process, you may have to pivot in ways that change the look you want for your program.
Life Span: The branding you come up with will live on for the duration of the program, so don't settle until you are pleased and remember to ask students their opinions. Then use this branding as often as you can, making it a noticeable part of your school. Every student, staff member, and faculty should know what it represents.
Stickers: Stickers aren't just for kids! Higher ed students love to show pride for their schools with stickers they can place on water bottles, computers, phones, and other school supplies. Creating on-brand stickers is a great way to get the word out on your program and pique the interest of more students.
University of Arkansas: Strategy, Diversity & Student Insights
The Sam M. Walton College of Business at the University of Arkansas secured a spot in Suitable's Best Branding list with S.A.M., the Students Achieving Milestones Program. By surveying employer partners, Walton was able to structure its career readiness program around competencies that represent the most important skills employers look for in hew hires. By joining S.A.M. Talks on important topics like integrity and race and participating in efforts like Freshman Business Connections, students can earn badges that help them make progress on the program's twelve career competencies.
Karen Boston, Ed.D., is the Assistant Dean for Student Success at the Sam M. Walton College of Business. She gave us some great tips on program planning and emphasized the critical importance of involving your students in the process.
Strategy: Determine a clear overall strategy for the program, and plan how you'll factor in the time to work it. Having a team that meets regularly is key to building a successful program, and if you're working with a partner like Suitable, you'll want to meet regularly for planning and support.
Diversity: Build a small team to work on your program project but ensure the group is diverse. Include representatives from across the school, from student success to career services to tech support, so that the team leading the charge has nuanced ideas to work with.
Students: Involve students in your program's strategy, planning, and implementation. Find ways to gather feedback from students in the development stages, like creating targeted focus groups. Then include students in program branding during its launch and throughout its implementation by having them showcase their experience through photos, videos, written pieces, social media, and other engaging channels.
Boston says one of the biggest challenges her team encountered was developing messaging that articulated the program's purpose to students. She recommends that information stays streamlined and showcased on a single, easy-to-find website for students that also becomes a convenient resource to share with your program's constituents.
University of Pittsburgh: Carrots, Uniqueness & Silos
The University of Pittsburgh Honors College won a Suitable Best Branding Award for the Honors Outside the Classroom Curriculum (OCC). This program is a roadmap that helps students involved "build a diverse Honors experience, from scholarly to social." A requirement of the college's Honors joint degree and Honors distinction, it encourages students to gather points through activities that contribute to ten core competencies and hit key milestones on their path to graduation.
Bryan Schultz, Director of Global and Experiential Programs at the University of Pittsburgh Honors College, said branding your school engagement program should start with a "why" and sprinkle in some valuable rewards for students along its course.
The Why: Students need to see the value of their participation across their personal interests and goals. Craft an elevator pitch that shares big reasons why students should get involved in the program and make the most of their experience. What benefits does it offer them?
Carrots: Highlight the "carrots" or incentives that students have for participating in your program—even if it's required. Having SWAG for completing a small set of tasks, meeting milestones, or moving up on the competitive leaderboard will always be rewarding.
Uniqueness: It takes a lot of effort and repetition to deeply burn in a new brand, especially among a large population of students. Make your program stand out with a unique name, style, and design. Steer clear of acronyms or initials, and try to distinguish the program from other similar initiatives on campus.
Silos: Embrace partnerships around your school so you can avoid reinventing the wheel for each engagement opportunity you create within your program. Who else on campus is offering what you'd like to offer your group of students? Break down those silo walls!
University of Wyoming: Simplicity, Differentiation & Expansion
SOAR, an undergraduate experiential learning and career readiness initiative, won the University of Wyoming its 2020 Best Branding Award. The program at UW was so successful that individual academic units, like the College of Business and the Honors College, personalized its framework to boost the value they provide their own specific student populations.
Jo Chytka is Director of Advising, Career and Exploratory Studies at the University of Wyoming. Chytka underscored the roles of simplicity and differentiation in the longevity of a program.
Simplicity: Keep it simple as you create new branding for your student engagement program. Straightforward, clear branding that is memorable becomes easier to incorporate into marketing materials, websites, swag, and other helpful assets and touchpoints.
Growth: Consider ways to make your program's brand stand out from all of the other acronyms on campus so the brand can grow with the program over time. This is especially important if you're starting out with one partner and hope to expand to secure more.
The University of Wyoming created a student engagement program brand that is applicable to the entire campus, rather than specific to a single college or school program. This is an easy way to leave the door open to future opportunities, even if your team doesn't have intentions currently of opening up the program to other student groups across the campus.
The Pathway to a Better Program
University branding and college branding hold a unique set of obstacles for student engagement professionals, especially as more students work on their degrees from behind a screen at home. But when the responsibility of keeping students active in their experiences outside of the classroom rests on your shoulders, you need to think about how much farther your initiatives can go with memorable, approachable branding.
The award-winning engagement programs from the College of Charleston, Washington State University, the University of Arkansas, the University of Pittsburgh, and the University of Wyoming are evidence of the fact that strategic branding carries a lot of weight. It pulls students in, keeps them interested, and becomes a part of their academic journey, whether on-campus or off.
Suitable is excited to see more groundbreaking student engagement programs at next year's Pathways to Student Development Conference. If you want to keep up with our 2021 conference, subscribe to join the Pathways community. And if you're looking for support as you build our your own program now, contact the team at Suitable to request a demo and learn more about the Suitable platform.