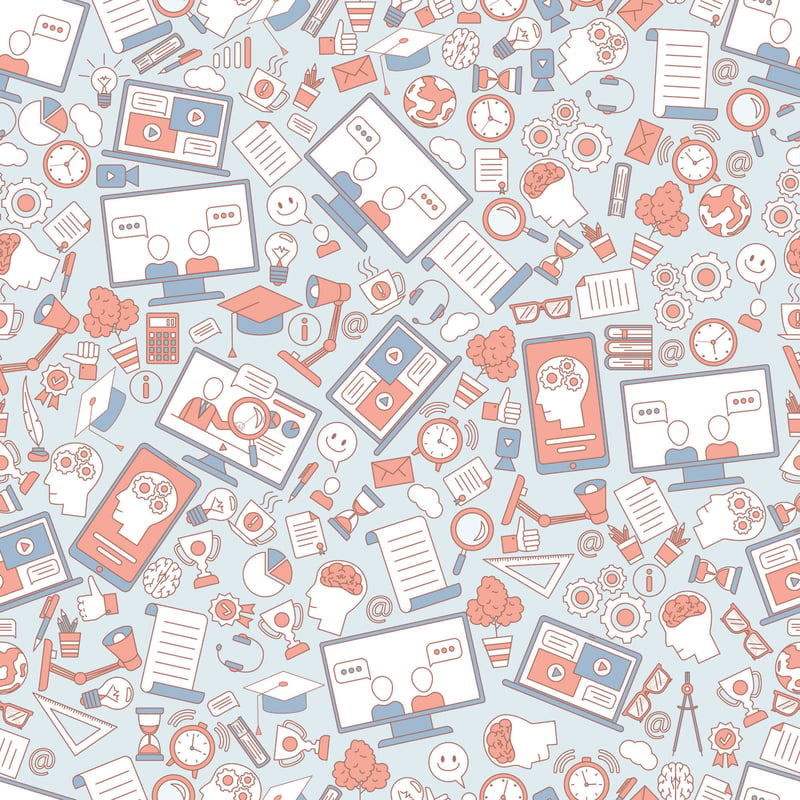 Suitable has been engaging students using their mobile devices for years now, from gamifying freshmen seminars to buzzing alerts straight into pockets.
So when schools had to host their orientations online due to the pandemic, Suitable was well-equipped to help with that transition. Schools can leverage Suitable to deliver a successful online orientation with various activities that are presented on Suitable's intuitive app. Although orientation may be a little different this year, if your school has recently embraced a hybrid or remote model, Suitable can help keep students prepared and engaged--through orientation and beyond.
Table of Contents:
Leverage Suitable to Deliver Successful Online Orientation
Our philosophy at Suitable is to better connect all of the areas at your school that are contributing to student success. We help schools create Student Development Programs (SDPs) to unify and scale their programming. SDPs give students structure, guided pathways to success, and High Impact Practices that make them career-ready.
Suitable puts students on the right path from day one all the way through graduation, but that first step on campus is sometimes the most important one. Our orientation experience is grounded in exposure-based activities to get students acclimated to the various resources available to them.
The next step is helping those students develop skills that will make them more employable once they graduate.
Partner Stories
University of Pittsburgh
The University of Pittsburgh has a program called the Outside the Classroom Curriculum (OCC). Before they started working with Suitable, student participation and completion of the OCC was at an all-time low; only about 20% of undergraduate students were participating.
On Suitable's platform, Pitt was able to create a more intuitive and exciting experience for their students, leveraging a mobile app that students are really for these days. Today, 67% of undergraduates participate in the OCC each year.
Beyond participation and engagement, the Provost office wanted to leverage data to assess how participation impacts graduation rates, satisfaction and QPA. Once they partnered with Suitable, they found that students that complete the OCC in its entirety are much more successful on these metrics.
Data provided by Suitable enabled Pitt administrators to identify pathways of participation that led to over 20% higher 4-year and 6-year graduation rates.
Montclair State University
Montclair State University was seeking a way to improve retention and persistence. Before working with Suitable, their retention rates had been declining for 5 years in a row and they wanted to gain a better understanding as to what types of first-year experiences were really driving outcomes as far as retention and persistence goes.
After their first year of using Suitable, retention rates rose for the first time in 6 years but more importantly, their data analysis revealed specific first-year experiences that correlated with significantly higher retention rates. In the following year, Montclair was able to create achievements designed to promote the experiences linked with better retention rates.
University of Wyoming
With the SOAR program, University of Wyoming administrators use Suitable as a way to integrate career competencies into their student experience and help students tell their professional stories.
Before Suitable, students had no comprehensive record of their development. Academic Affairs wanted data on High Impact Practices and Competencies. Now students have a competency-based Experiential Learning Record that articulates their unique development story. They have 7 core competencies defined that scaffold student experiences over 4 levels of proficiency.
Core Capabilities of Suitable
Achievements & Badging
Gamification elements like achievements and badges keep students engaged, allow both students and administrators to track progress, and give students much-needed encouragement to keep them on the right track towards their academic and professional goals.
The most important part of any digital badging or gamification program is acknowledgment and encouragement. The Suitable app has functionality built in to acknowledge a student for reaching a certain milestone, congratulate them, and encourage them to take on that next experience.
Students can see everything they have done and what they need to do next, which keeps them actively engaged, continuously moving towards their goals. This is also useful for staff to understand who is completing the program, who is logging progress, and who is behind. Suitable allows students to access their own data to measure their development as they go. Universities use the data to assess learning and improve outcomes.
The requirements of an achievement can be disseminated in a few ways. The most important thing is that students are guided towards their next achievement with personalized recommendations. Students can clearly know what they need to do next and have tailored recommendations that are unique to them. Every time the student uses the system, they are contributing to a more tailored experience for when they come back.
An Unparalleled Mobile Experience for Your Students
Suitable's unique mobile integration allows students to track their success through activities hosted on the app.
Modern Event Check-ins: When students use the Suitable app, they can use their smartphone camera lens to scan a unique event code that checks them in and tracks attendance. 85% of our partners are using Suitable to track attendance on their online zoom events.
Self-guided Reflections: There are open-ended journal entries where students can reflect on the experience of their activity. Self-guided reflections give students a space to share their thoughts, which also provides insight for staff to find what activities are driving the most student interest.
ePortfolio Submissions: Eportfolios are an engaging way to get students to take advantage of some of the systems that you might already have. For example, in many orientation achievements, our schools ask the student to upload the results of their Strengths Quest assessment. With Suitable's ePortfolio, that submission can be uploaded in one tap/click and then conveniently stored in the student's ePortfolio.
Structured Reflections, Assessments & Surveys: Nowadays, online learning has popularized video quizzes for students to watch and complete an assessment on the content. Suitable offers a platform for students to do this straight from their phones, accessible anytime and anywhere
Another one of Suitable's capabilities is streamlining experience's approval and verification workflows. Most schools want to review what students submit, so we give you the ability to review what students submit for quality right from the home screen.
Experiential Learning Records
Every student automatically receives a comprehensive Experiential Learning Record that articulates their development story. Everything a student does on Suitable is automatically aggregated onto a real-time record.
Student affairs professionals and other staff across the university, from academic advisors to career directors use these records to evaluate the next steps. When your student is ready to have their first appointment with your career center, career advisors will be able to pull up that record and see what type of student they are about to meet with. Our partners also use these records to check up on at-risk students in seconds.
The Experiential Learning Record has also been designed for students to share online and with employers, adding more value to their LinkedIn profiles and online portfolios.
Modern Communication Options
As we promote active engagement on each student's phone, it opens up a new channel of communication with students where they spend most of their time. For most departments on campus, their only communication method is email. We have seen that students have been inundated with emails and aren't really sure how to decipher which are important and which to pay attention to.
Schools that use Suitable have been using these push notifications as a way to cut through the noise, get their message directly out and have a touchpoint with their students, even while their schools are completely remote. Notifications can be sent right from the dashboard, scheduled in advance, and segmented to different groups of students.
Online Orientation Ideas
With schools still pending a fully in-person reopening, most schools are still conducting their freshmen orientations virtually. In fact, when we previously surveyed our partnering schools, 88% of them said that they expect their orientation to be an online format. At Suitable, we are well-positioned to contribute ideas regarding online formats to better help design online makeup orientations for their students. Suitable has been able to help schools succeed in in-person environments prior to the pandemic and can also help even more during the new age of remote learning.
First Semester Digital Badge
Most Schools that use Suitable have some type of first-year or first-semester achievement to guide students and promote the experiences that they think are essential to make students successful during their first semester.
To develop achievements on Suitable, you can have a bunch of requirements, some requirements and some options, or even all options. We find that schools that give students some options have better engagement because students like to be able to make decisions and do activities that interest them.
Something that often gets overlooked is the look and feel of the experience as the students are participating in your online orientation. This is a time you hope to make a great first impression. Badges should be branded to your school, with app interface screens including branded colors, images, and logos.
First Generation Digital Badge
Something that is also very popular with the schools we work with is achievements that are specific to different populations at your school. We see a lot of schools that use Suitable have achievements that are geared towards first-generation students to get them involved and give them extra guidance to make sure they are successful.
Virtual Event Attendance Tracking
A very popular capability on Suitable among schools is the virtual event attendance tracking. Schools use the completion codes on Zoom meetings to track if the students attended or not. This continues to engage students similarly as on-campus events once did and can be used for students who are even 100% remote.
Virtual Scavenger Hunt
The goal of a virtual scavenger hunt is to help students find all of the student resources that are available to them. There are 3 different ways schools can go about this: place Suitable codes on the web pages so students can scan, have students submit a sentence you identify within the program or have students upload a screenshot of the page. The virtual scavenger hunt is a great way to make it exciting for students to find these resources and get a good understanding of what is available to them, especially in a virtual setting for online orientation.
Orientation and Pre-Semester Reflections
Another popular concept on Suitable is reflections on orientations and also on pre-semester reflections that students submit. Most of our partners typically have student leaders review those reflections rather than staff. Some have found that when a student knows that their reflection is being reviewed by a peer leader, they can be more open and transparent about what they thought about orientation or how they feel about themselves going into that semester.
Orientation Team Group Competitions
Most schools that use Suitable during orientation, will create teams of students and have a friendly competition among the teams to engage with different types of activities such as the virtual scavenger hunt, first-year achievements. We have found that, when students are a member of a group or a team, they are more likely to engage than if the engagement just helps themselves. Some schools take it a step further and have peer leaders or peer ambassadors as the team leader of the group competition. This gives an opportunity for leaders to lead and contributors to contribute. Let Suitable do the tracking to see who wins the competition overall. This is especially great if students can't see each other or really interact if they're working from home.
80 Remote students engagement tasks
At Suitable, we are committed to providing support in helping your school and students reach success. When the pandemic hit, we took a look at all of the programs using Suitable, and aggregated all of the best remote suitable engagement tasks and put them all into one list. To continue learning more about student engagement despite being online, check out our 80 remote student engagement tasks.