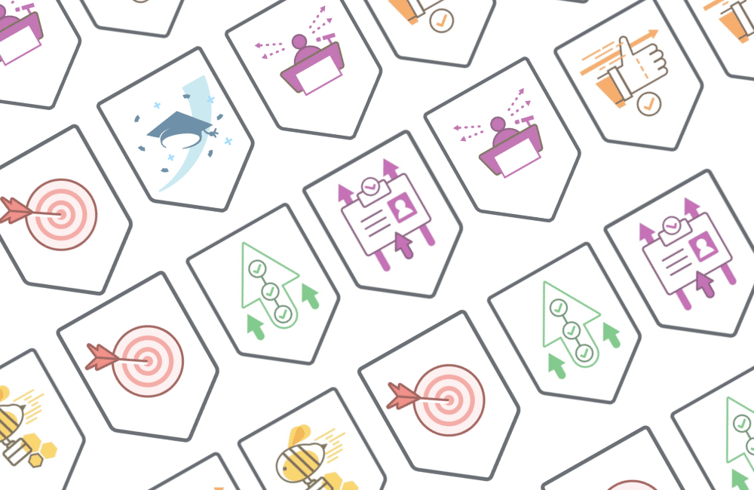 If you are reading this, chances are you've heard of digital badges.

These mini-awards for co-curricular accomplishments have exploded in popularity in just a few years.
But, like most trends in higher education, while the definitions and basic concepts are consistent from one campus to the next, the purpose, resources and execution vary.
On most campuses, for example, digital badges complement conventional degrees, certificates and diplomas by further highlighting what a student is capable of. Other than capturing a record of demonstrated competency outside the traditional classroom setting, digital badges improve learning and help students prepare for life after graduation.
But how?
How are my peers using digital badges?
Digital badges are used to highlight the learning that occurs outside traditional classroom settings on college campuses.
Using digital badges, skills can be gained and demonstrated through opportunities like:
Internships

Volunteer work

Greek life

Student organizations

Other co-curricular activities
As a complement to conventional certificates and diplomas, badges help students embody their experiences and translate them into the skills employers are looking for.
Check out these digital badge examples from our partners across the country to see how your peers are using digital badges to fuel student success initiatives and improve outcomes.
BADGES AS INCENTIVES
We know that people tend to learn and perform better when they are rewarded for what they do and have their efforts acknowledged. In higher ed, digital badges help educators recognize student accomplishments and motivate students struggling to excel.
Peer Highlight: Moravian University's Career Readiness Digital Badging Initiative
Our partners at Moravian University are using digital badges to motivate students to engage, progress and succeed by incentivizing engagement and rewarding accomplishments big and small.
Moravian students can earn points by completing activities such as:
Engaging with their career development faculty;

Attending events around campus;

Joining a club or organization;

Participating in intramurals.
Activities have different point values based on level of involvement, skill development, overall responsibility and proficiency, and these points get students closer to earning one of eight digital badges.

By using points and digital badges as incentives, Moravian's career readiness initiative, the Career Readiness Digital Badging Program, has continued to grow. Moravian now has a way to track co-curricular data and increase student engagement that benefits both administration and students.
BADGES FOR ACCREDITATION
We all know how important accreditation is in higher education. Achieving, and keeping, accreditation can make or break funding, recruiting and job placement efforts.
Digital badges highlight the skills and programming needed to keep accreditation and create an easy-to-track pathway for competency development.
Peer Highlight: Illinois Institute of Technology
In order to meet the latest accreditation requirements for the Higher Learning Commission (HLC), Illinois Tech needed a better way to track and assess co-curricular involvement. The team used digital badges and enhanced reporting on quantitative and qualitative (i.e. – ePortfolio/reflection) data to show that students were engaging, how they were engaging and what skills they were developing.

By using digital badges, the team at Illinois Tech could easily report their students' co-curricular involvement and meet the requirements for HLC accreditation. Not only did students reap the rewards of campus involvement, but administration used digital badges to collect and report accreditation data.
BADGES FOR ASSESSMENT
Digital badges serve as a sustainable, scalable assessment method.
No matter what badging framework you choose, you can use digital badges to ensure consistency, test skills and assess understanding. Badges can also be used to certify mastery of certain concepts, platforms or skill sets.
Peer Insight: Purdue University's CareerBound Initiative
Purdue University created its CareerBound program to not only upskill its students at the Krannert School of Management but to assess and scaffold their career readiness. CareerBound was built on Suitable to benchmark and measure students' proficiency in core NACE competencies.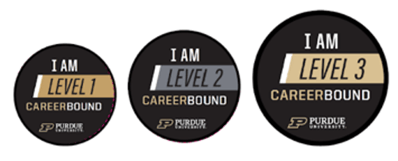 Customized digital badges helped the team at Purdue to provide alternative assessment methods, support collaboration between programs and increase students' participation in their own career development.


BADGES FOR PROFESSIONAL DEVELOPMENT
Digital badges help solidify what student success looks like and make it actionable. By using digital badges, schools can create guided pathways for students in different programs or tracks.
Universities partner with local employers to identify certain soft skills and proficiencies, then use digital badges to track skill development, in addition to academic accomplishment, as their students progress through the academic journey.
Peer Insight: University of Wyoming's SOAR Program: Scaffolding Career Readiness
SOAR is a competency-based program at University of Wyoming comprised of high-impact experiential learning opportunities that will engage, shape and prepare students for the professional world.
UW SOAR uses gamification features, personalized digital badges and co-curricular transcripts to increase career readiness and bolster professional development.
By finding ways to leverage digital badges and creating guided pathways for students, the team at UW continues to scaffold career readiness, building up the skills that students will need for their future careers.

The badges used for the UW SOAR program highlight the skills and competencies employers are seeking when hiring new employees. By completing these digital badges, new graduates can demonstrate mastery of different skills, concepts and capabilities.
That's the beauty of digital badging; it can be incorporated at all levels of learning and support a variety of initiatives. Each badge can represent a skill, mission or value that you want to see your students master.
Whether you're using digital badges to track a student's professional development or to create friendly competition on the Leaderboards, these micro-credentials are becoming increasingly valuable on campuses across the country.
Like these digital badge examples, colleges can use digital badges to provide a new method of assessment, credentialing and co-curricular learning. Maybe your institution doesn't have a digital badging program yet established, or perhaps you're looking to make some changes. Regardless of where you're at in your journey, Suitable can help you create customized digital badges that help students get plugged in, achieve their career goals and incentivize professional development. Ready to learn more? Request a demo today to see how our platform works, how schools are creating digital badges and more!