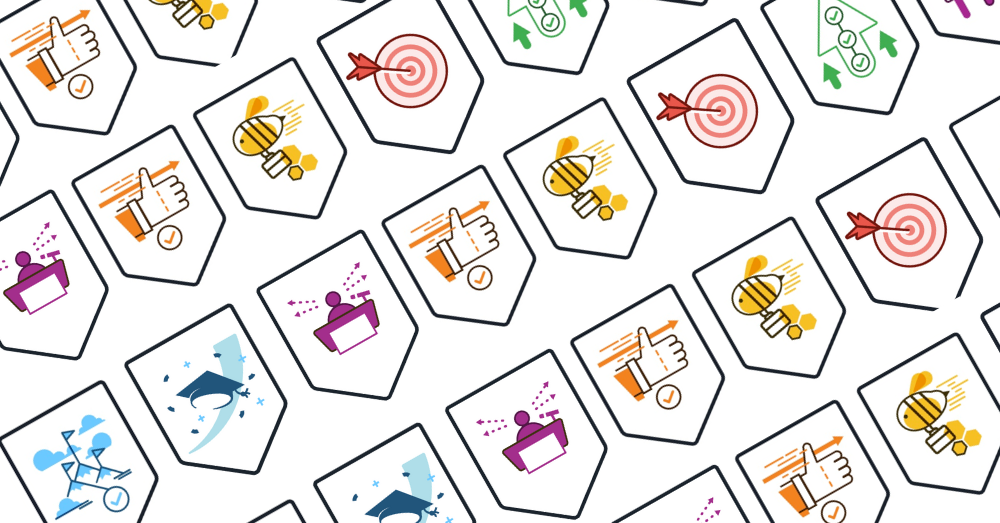 In a recent survey published by the University Professional and Continuing Education Association, 7 in 10 college leaders say micro-credentialing could help enrollment and revenue.
The study collected responses from 606 campus leaders on a wide range of questions related to credentials.
Not only are 71% of college leaders interested in micro-credentialing, 88% say that micro-credentialing initiatives are aligned with their strategic plans.
All of this begs the question: what is a micro-credential and why are so many college leaders interested in bringing micro-credentialing to their universities?
What Are Micro-Credentials?
With micro-credentialing, students can demonstrate necessary skills on their own timeline rather than through fixed periods, proving competency or mastery by providing evidence and artifacts, such as videos that show the new skills in use.
So where did this concept come from?
About 10 years ago, a new type of education company emerged, providing access to MOOCs or Massive Open Online Courses. These courses could teach you valuable skills, allow you to take partial course programs from top universities and even get you credentialed for a new job.
To say this was a hot trend at the time would be an understatement. In fact, three of the largest MOOC creators--Coursera, EdX and Udemy--were all founded in the same year between the summer of 2011 and the summer of 2012. These three, and others, effectively captured a brand new market for democratizing elite education by partnering with both the top universities and the top corporations in the world.
The most successful of these, Coursera, was founded by Stanford professors in 2011 and started as a non-profit, initially offering access to their lectures free of charge. But when studies revealed very few people were actually attending the limited courses they'd made available, the company expanded and charged for courses. The move transformed Coursera into a powerhouse. The company went public earlier this year and is now reportedly worth $7 billion. Udemy is expected to go public soon as well, with a similar model.
Created by professors and researchers at Harvard and MIT, EdX launched with a similar model to Coursera: providing access to classes and lectures for free. While the company had differentiated themselves by remaining a non-profit and offering courses free of charge, the founders announced earlier this year that they would sell to for-profit company 2U for $800 million.
Beyond educators starting businesses, micro-credentialing and digital badging quickly became the talk of Washington DC as well when, in October 2011, the MacArthur Foundation launched a $2 million competition calling for designers, technologists, and organizations to submit proposals on how and where digital badges could be implemented, as well as designs for their appearance and operation. At the announcement, Education Secretary Arne Duncan called digital badges a "game-changing strategy."
Two years later, in 2013, the Mozilla Foundation received the MacArthur funding and launched Open Badges--a framework that specified technical standards for digital badges and provided a place where individuals could collect badges that met these technical standards. That same year, the Clinton Global Initiative announced an effort to expand access to Open Badges to help workers certify their skills and improve their economic futures.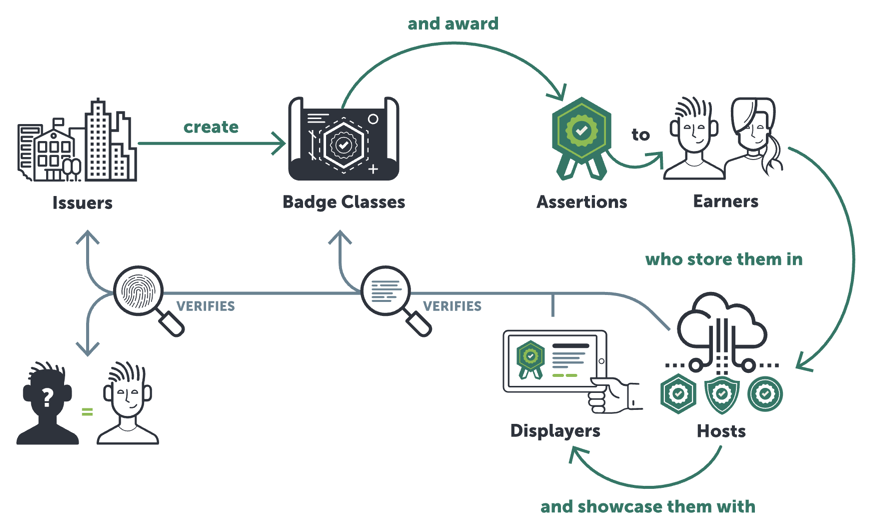 This image is licensed under a Creative Commons Attribution 4.0 International License. Open Badges from IMSGlobal.
Suddenly, badges, micro-credentials and MOOCs were no longer just another YouTube for people looking to learn additional skills on the weekends. There was a vision for micro-credentialing to spread higher education to millions of people who, for whatever reason, couldn't attend college in the traditional way, or needed certain skills to stand out in the workforce.
Certifications Are Rising In Value
In January 2017, the IMS Learning Consortium took over a notable portion of Open Badges' responsibilities, providing updated standards that some indicated at the time, could pave the way for universities to create their own micro-credentialing programs.
Non-degree credentials and certificates are nothing new for colleges and universities--Yale University created the first certificate program over two centuries ago.
What is new, however, is the corporate world's acceptance of non-degree certificates and competencies for high-paying jobs. According to a 2020 report from Glassdoor, Google, Ernst and Young, Penguin Random House, Hilton, Apple, Nordstrom, IBM, Lowe's, Publix, Starbucks, Bank of America, Whole Foods, Costco and Chipotle no longer require college degrees for top-level positions.
Even still, most observers believe certificate programs and degree programs will co-exist. Higher education's role in this new economy, however, is still coming into focus. With MOOC companies garnering huge valuations, the increasing need for new skills and the growth in workforce specializations, interest in courses and credentials will continue to grow. But who is creating these credentials? And why?
Independent studies of MOOCs show that for-profit entities have moved more in the direction of corporate training since launching in 2011. Coursera has said their most popular courses come from Google, not Harvard or Yale. The question is: if the corporate world is creating these credentials, how much are they serving the learner and how much are they serving the corporation? For example, is Amazon's logistics training credential teaching you how to work for any company, or is it teaching you how to work for Amazon?
Additionally, some recent reporting about who exactly is attaining these micro-credentials shows they may not be for everyone.

Vision vs. Reality
While much ink was spilled between 2011 and 2013 about the potential of micro-credentials to help people develop competencies and get jobs, a new report from two researchers at Teachers College of Columbia University offers some hints about who exactly is completing micro-credential courses and what the benefits of doing so might be.
According to the study, the average students completing these badges are 30-44 years old, well-educated and currently employed, indicating that employers are far more likely to accept these credentials for career advancement than they are to see them as reasons to hire.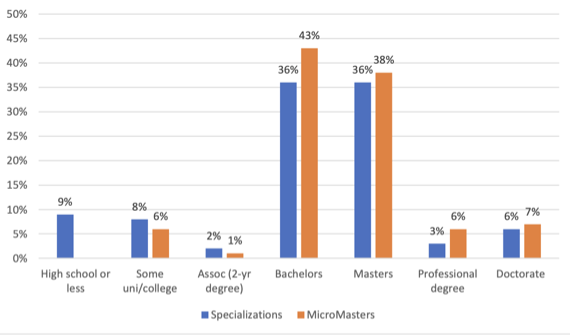 Who completes MOOC courses today? Benefits and Costs of MOOC-Based Alternative Credentials, Figure B. Highest Level of Education Completed
This study, and others like it, suggest that the vision for democratized, widely available career training has not yet been realized. Which begs the question: where do college and university leaders hope to take micro-credentials and online learning programs next?
What Comes Next?
Whether the end result is a full degree, a certificate or an MOOC credential, America's universities are broadening their definition of learning to go beyond traditional academics.
All Of The Above
The certificate program originators at Yale University currently offer the ability to earn credit towards a Masters in Public Health with their MasterTrack certificate program on Coursera or take a public humanities micro-credential with the university in lieu of an internship.
In both these instances, Yale University is acting as the content creator and facilitator for students to get the education they need on the student's own terms as part of--or independent from--a full degree program.
Upskilling
The current trend of micro-credentials going to already-employed, well-paid workers gaining credentials to advance their careers is not going anywhere. In fact, there is plenty of evidence to suggest that our current economy's rapid digital transformation will require widespread upskilling programs for certain legacy companies to remain competitive.
Employers are already moving on this. But the degree to which they involve colleges and universities remains to be seen. Amazon, for example, announced in 2019 a program that would spend $700 million over six years to retrain 100,000 of its employees, for jobs within the company and beyond. This retraining is almost entirely within Amazon, cutting out traditional colleges and universities.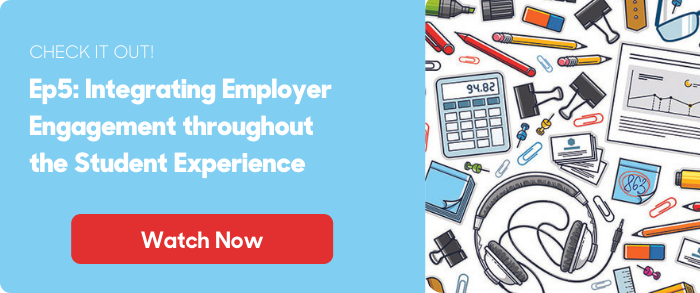 Both Wal-Mart and Target, however, have chosen to work with colleges and universities. Both companies launching massive upskilling efforts--announced in the same week this summer--designed to help reduce the cost burden for employees to further their education.
Wal-Mart announced that its Live Better U education program--which helped defray the cost of tuition and books for its associates using a $1-per-day deduction from employee paychecks--would now be free. More than 52,000 associates have participated in LBU since launching in 2018, and 8,000 have graduated. Digital certification comes through partnerships with Cornell University and Southern New Hampshire University.
Target's program partners with 250 business-aligned programs at more than 40 schools, colleges, and universities to offer a comprehensive debt-free education assistance program to more than 340,000 employees. US employees will be eligible for debt-free assistance for select undergraduate degrees, certificates, and certifications on their first day of work.
According to the company, "Target will support team members taking courses for high school completion, college prep, English language learning and select certificates, certifications, bootcamps, associate and undergraduate degrees." Academic institutions include the University of Arizona, Oregon State University, University of Denver and eCornell along with HBCUs Morehouse College, Paul Quinn College and more.
Target will also offer tuition assistance of up to $5,250 for bachelors degrees and up to $10,000 for masters degrees for educational pursuits outside those listed above.
Will colleges and universities choose to expand their work with these types of programs, or will they choose to create their own upskilling partnerships?
Stacking
Credentials and certifications offer more than just a box to check in order to get a promotion. Some universities are starting to see them as the building blocks to their education.
Take Western Governors University, which now offers a completely online experience where students earn skill credentials on their way to a degree. As they go, they can use these skill credentials to advance current careers or work towards a career shift.
Brigham Young University offers a similar program entitled "Certificate First," allowing students to first gain certificates on their way to a full degree.
They call these "Stackable Bachelor's Degrees" and their leaders say they can help not only people who need credentials quickly to reenter the workforce, but also reduce the number of people who leave college before finishing.
While these programs were in place before the pandemic hit, furloughs and job losses have required workers in an ultra-competitive workforce to seek quickly-attainable skill credentials that can make them more competitive.
According to EdX co-founder and MIT professor Anant Agarwal, the MOOC program signed up more learners in April of 2020 than it did the entire previous year. The company says they now have 30 million subscribers worldwide and have launched a stackable bachelor's degree of their own that they are calling the MicroBachelors.
What About Outside of the Classroom?
Forward-thinking schools are beginning to leverage the micro-credentialing concept for the student's experience outside of academics. It avoids the onerous process required to get courses/certificates/minors/majors approved via academic affairs and helps schools guide their student's journey in a customized, more manageable way. Micro-credentials offer the flexibility and agility needed to iterate as involvement data is collected and analyzed for insights on which parts of the student experience are working or not.
Micro-credentials can provide students with milestones to work towards and recognition for their accomplishments along the way, which keeps them engaged and focused on their educational and career goals.
Whether the future economy demands a collection of credentials, a traditional degree or both, Suitable can help by providing students a place to collect all digital badges into an Experiential Learning Record, complete with a skill profile, ePortfolio, and timeline. Administrators can take a more hands-on facilitator role as they create digital badges, establish competency frameworks and offer all experiential learning opportunities inside a single app.
Suitable can help schools offer more options as non-degree certificates, credentials and online programs gain more prominence. Request a demo or contact us today to learn more.